Specialty Roasted Nuts & Toasted Corn
Created in Portland, OR and inspired by the Pacific Northwest, we make products that taste great and are great for you.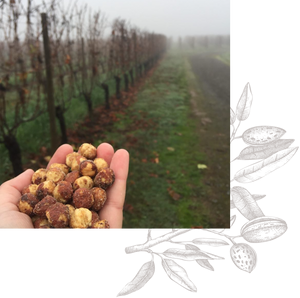 The Nuts Don't Fall Far From the Tree
Our all-natural, hand-made candied nuts and savory snacks celebrate the natural bounty of Willamette Valley.
After many hours spent in the kitchen perfecting our craft and eating more than our fair share of nuts, we had our first product, Sweet & Salty Oregon Hazelnuts. Fast forward to today, we have a full line of delicious products and a small family owned business.
More about us
Our Recipes are Made by Hand from High Quality Ingredients
We don't overload them with sweeteners or added oil. Sourcing high quality ingredients and making our recipes by hand allows us to keep an eye on every step of the process and ensure that only the best stuff (great ingredients and care) go into making our products.

We think you'll notice!
Where to buy